This was published 8 years ago
Return of the great white whale
Whale, whale, whale, we meet again Migaloo.
The rare white humpback whale was spotted off Cape Moreton today but in a cruel twist of fate Brisbane or Moreton Bay whale watching crews were out because of rough winds.
Migaloo cruised past Cape Moreton on his migration back from the northern waters.
Oskar Peterson from the White Whale Research Centre confirmed it was Migaloo after viewing footage of the white whale frolicking in the waters.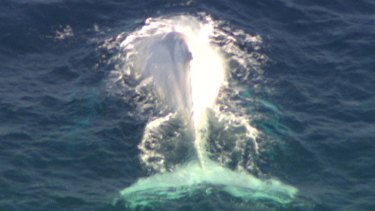 "At this time of the year he is usually spotted off Byron Bay," he said.
"It's really good for whale watchers down south to have this sighting (to prepare for)."
Migaloo is estimated to be in his mid-20s and has snuck past the Gold Coast for years with no sightings of him there since 2009.
The star tourist attraction could live for another 20 to 30 years with Mr Peterson saying "he'll be around to entertain another generation of kids".